Paying attention to ergonomics means paying attention to your employees' well-being. It benefits physical and mental health and leads to greater happiness at work. In fact, though, the impact of ergonomics also makes itself felt in greater productivity and efficiency. How, exactly, does it do that? Read this blog post to find out.
Ergonomics at work means…
… adapting the surroundings to personal needs, both physical and mental. An ergonomic office chair, a height-adjustable desk and other ergonomic adjustments create greater comfort. And people who can work comfortably tend to be more satisfied and better able to concentrate on their tasks.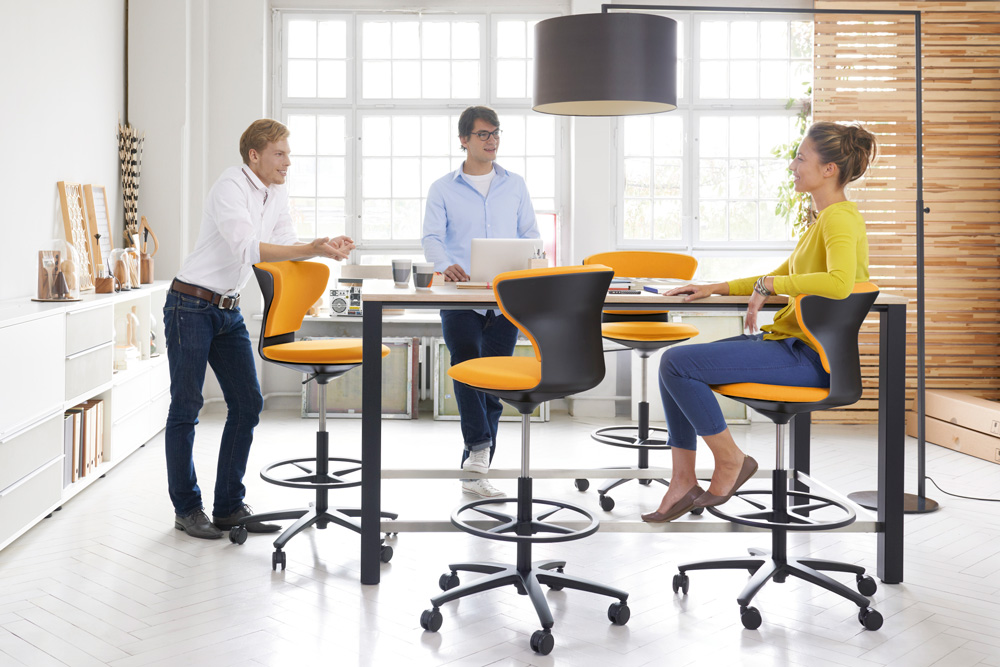 Ergonomics ensure greater productivity and efficiency
Besides ergonomic furnishings, there are many other ways in which ergonomics increase the productivity and efficiency of employees:
Ergonomic software and tools improve the interactions between workers and computer systems. This includes user-friendly interfaces and well-designed software applications as well as other tools such as ergonomic mice and keyboards or adjustable monitor arms. These small changes help people to do their work faster and more accurately.
Ergonomics also affect workflow and the distribution of tasks. Distributing tasks in an ergonomically responsible way enables employees to work more efficiently. Measures you might consider include reducing repetitive tasks, respecting breaks, encouraging a balanced workload, etc.
If you invest in ergonomic training and awareness, for instance by providing information about the correct sitting position, how to set up a workplace ergonomically and so on, you enable each employee to make their own contribution to improving their productivity and efficiency.
Do you want to make the impact of ergonomics felt at your company?
Today, an ergonomically furnished workplace is the number-one way to help your employees work comfortably, healthily and safely. It even helps you attract new, young talent – and to retain it. Do you want to make the positive impact of ergonomics felt at your company? Ergo-Lab will be happy to help you make that happen. Feel free to contact us without obligation, so that we can get to know you!